THE 6TH INTERNATIONAL CONFERENCE ON ENGINEERING AND BUSINESS EDUCATION (ICEBE) WINDHOEK 07 – 10 OCTOBER 2013.
The ICEBE network is a group of universities from around the world that are interested in globalisation and the exchange of expertise in the interdisciplinary approaches of engineering and business education.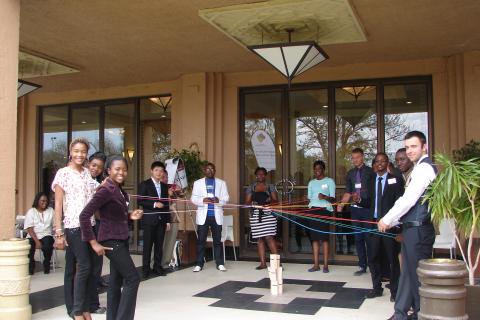 The conference took place in Windhoek, Namibia from 7 – 10 October 2013. Delegates from German, China, South Africa, Zimbabwe and United States of America attended. Both Namibian and international students shared the nature of their projects as well as the challenges experienced. Students shared their presented and shared different experiences.
The motto of the conference was "THINK GLOBAL AND ACT LOCAL - Be part of a global community to make your career dreams come true"
Workshop on intercultural skills
On October 8th students attended a workshop on intercultural skills. The purpose of the workshop was to educate students on aspects of team dynamics. Mrs Doreen Heydenbluth-Peters from Wismar University in Germany facilitated the workshop. Students were challenged to build a power tower using wooden blocks to demonstrate the dynamics of working in teams. All the students cooperated well and managed to complete a tower in 20 minutes. After the activity, the facilitator discussed the challenges experienced during this activity with the students.
The challenges discussed included with communication; some students could not communicate well in English. However it was discovered that good cooperation and commitment to achieve a common goal among students assisted them to complete the task effectively. The team comprised of students from Polytechnic of Namibia, Wismar University, Germany and Shijiazhuang University in China.
Student paper and presentation
A student paper presentation session was held on 09th October. The Namibian and German Student Research Development Teams presented results of their project.
The first Namibian team from Adforce presented the concept and learning experience of their project. They were expected to conduct research on Life- Style Marketing Segmentation of Namibian consumers. The purpose of the study was to determine the extent to which advertising influences brand preference between different products.
The second team to present were students attached to Hangana Sea Food, a subsidiary of Ohlthaver & List group of companies. Their project focused on industrial and manufacturing processes (machinery, operators as well as wastage and packaging). Students presented their work plan, interview guide and preliminary results for the project. Both projects were still in progress when the presentations were given.
A student from Germany also shared their experience of working in a multi-disciplinary project. The topic of the project was "Employees flexibility in a patchwork world of jobs". As part of the presentation, he explained that their multi-disciplinary project is conducted under the theme "Charity for the image" where they create an action catalogue with options which include social activities that bosses and their employees can do to strengthen employee-employer relations. Options include bungee jumping, paragliding, helping out at hospitals and many others.  The option with the highest number of employee votes will be chosen and the boss will have to make it happen. Each vote will be converted to cash.
Other topics presented were as follows:
The role of business support systems and development programmes in improving SME's performance in the Western Cape Province by Zinzi Nxopo from Cape Peninsula University of Technology, South Africa.
Sustainable Tourism by Marcus Trammler from Jena University, Germany.
The simple products for Africa by Jackson Rohr from Polytechnic of Namibia.
Migration and entrepreneurship by Sebastian Pals from Wismar University in Germany.
The Business Academia Forum: Exploring Work Integrated Learning in Emerging Market.
The forum comprised of panel members from industry and academics. They all shared their views on Work Integrated Learning (WIL). Delegates were requested to form five groups to discuss the following topics during the breakaway sessions, and provide feedback.
Education drivers (Higher Education Institutions versus Business).
Broad versus specific Education.
Mainstream integration.
Communication.
Creating global citizens.
An additional highlight was The Idea shop: Glocalisation of international Education on Business.
The workshop was facilitated by Dr Ronny Adhikarya from the Word Bank. He gathered all students and presented the topics to students for discussion. The students were required to break into three groups which represented.
The Policy/Decision Makers from the Ministry of Development Planning.
The Business Foundation Executives (mobile funds & contributing in implementing high-priority programmes).
The Community members who comprised of the educators, entrepreneurs and students.
The students had discussions within their groups and came up with innovative ideas on integrating and support "GloCal" cultural preservation, renaissance/development and understanding in business and educational programmes. A spokesperson from each group was chosen to present and role play their ideas for the ICEBE delegates.
The next year's ICEBE conference will take place in China in October 2014.